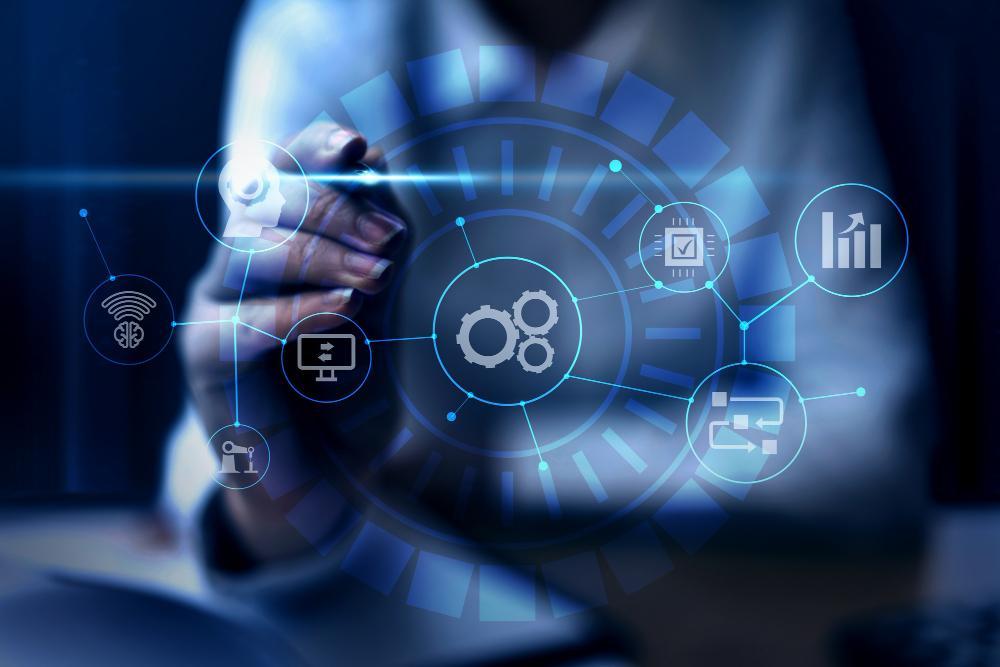 Fully integrated into the information system, dematerialization and automation solutions improve productivity and offer new possibilities to businesses.
These solutions can be used for various needs such as citizen services management (e-services), mail management, payment means management, dematerialization or archives, or more complex solutions based on Artificial Intelligence. AI plays a key role in process automation and can help businesses improve their efficiency and productivity.
Gemadec offers its expertise and experience in implementing this type of project.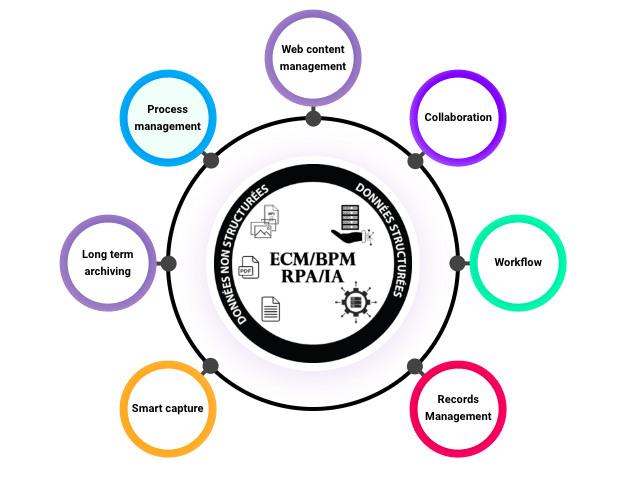 Electronic document management

Electronic archive management

Enterprise workflow management
Implementation of exchange buses and modeling/integration of processes

Transactional portals

Implementation of eService portal

Implementation of tele-services factory
Enables the automation and acceleration of processes involving large volumes of documents.

Enables employees to free up time and focus on tasks with real added value.

Helps eliminate errors through automation of data collection and entry.

Allows for cost savings in the execution of repetitive and manual tasks.
Dematerialization system for the clearing of checks

Supports the Moroccan banking system

Dematerialization and bank clearing

Checks processing chain: for the remote clearing or verification and control of checks.

Enables secure exchanges between banks and the central bank.
Dematerialization of business processes

Mail management

Document management (DMS)

Quality Management System (QMS)

CRM

Project management (SAP)

Implementation of a BI (Business Intelligence) solution
The definition of e-Parliament is "A parliament that places technology, knowledge, and norms at the heart of its operations and embodies the values of collaboration, inclusiveness, participation, and openness to the public." This is the definition contained in the latest global e-Parliament report dated 2018 (*). A report produced by the United Nations and the Inter-Parliamentary Union (World Organization of National Parliaments) to which Morocco adheres."
Streamline the internal functioning of parliament

Strengthen communication between the different actors of parliamentary action

Increase the performance of the administration

Strengthen transparency 

Constitute the data heritage of parliament
GEMADEC DEMAT is a suite of software bricks built around the IBM Cloud Pak for Business Automation software suite that facilitates the implementation of document dematerialization and process automation solutions for our customers, such as:
Dematerialization of incoming and outgoing mail

Dematerialization of purchasing processes and invoices

Dematerialization of legislative processes and government control

KYC - Dematerialization of credit applications